Social Media Marketing for Interior Designers
As social media marketing becomes an increasingly popular tool for businesses of all kinds, interior design companies are no exception. Many interior designers in the U.K. are using a social media strategy to promote their businesses and reach new clients. Our company offers unique and quality social media marketing services to help you achieve your goals in your interior design business.
Looking For Social Media Marketing Services


Get in touch today!
4.7 stars out of 126 reviews
What is Social Media Marketing for Interior Designers Companies?
Social media marketing for interior design companies is creating and sharing content on social media platforms to achieve marketing and business objectives. To succeed at social media marketing, interior design companies must create compelling, targeted content that resonates with their audience.
How can Social Media Marketing Help my Interior Designers Firm?
Social media marketing can showcase the firm's work and highlight recent projects. The highlights will help generate new leads and interest in the firm's services. In addition, you can use social media to build customer relationships. It helps to create a positive reputation for the firm and establish it as a trusted source for interior design advice and services.
The Benefits of Social Media Marketing for Interior Designers Company
Reaching a large audience
Social media platforms like Facebook and Twitter have millions of users, meaning your potential reach is enormous. And because people are already spending time on these sites, you won't have to work as hard to get them to see your content.
A successful digital marketing effort rides on the success of a properly designed social media campaign. If you are yet to have a website set up for your interior design company, we offer full web design services for interior designers too.
Connecting with other professionals in the industry
One of the great things about social media is that it allows you to connect with other professionals in your field. It is valuable for networking, collaboration, and even finding jobs.
Stay up-to-date on industry news and trends
Social media is a great way to stay up-to-date on industry news and trends. You can follow industry leaders, read articles and blog posts, and even participate in online discussions. It will help you stay ahead of the curve and give you an edge over your competition.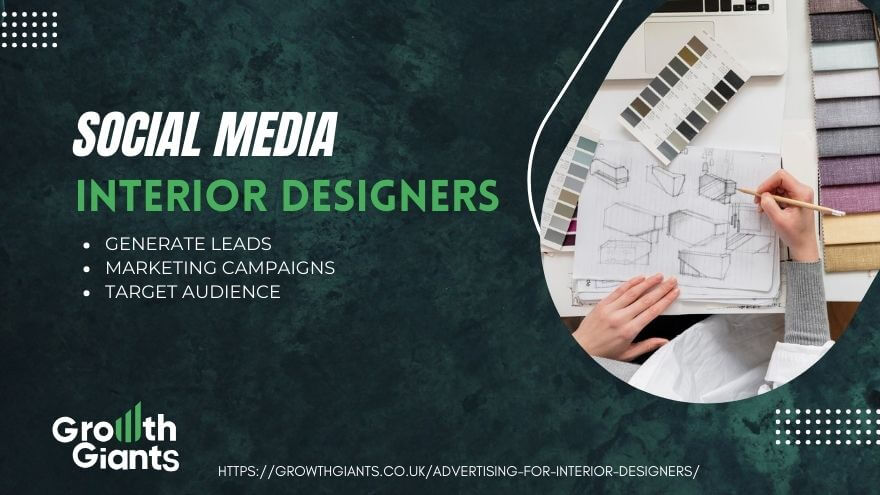 Why Choose Us?
We are experts in social media marketing with several years of experience in using various social media sites to attract your target audience. Our company has worked with several interior design companies in the U.K., providing quality and efficient services.
The team knows how to create and implement effective social media marketing campaigns to help you achieve your business goals. Contact us today to learn more about how we can help you grow your business with social media.
If you have not got a profession video created for your interior designer company yet, this could be a great thing to look at doing alongside your social media marketing campaign. Check out the link to learn more about our video services for interior designers.
For Social Media Marketing Specialists


Click here
How our Interior Designers Company Social Media Marketing Services Work
Our interior design company offers social media marketing services to help you promote your business and reach your target audience. We will create and manage your social media accounts, create and post engaging content, and interact with potential customers online.
You may also be interested in a more traditional style of marketing for your interior designer company. If this is the case be sure to check out our interior design advertising services for more information.
Types of Social Media Marketing for Interior Designers Companies We Offer
Facebook
It is the world's most popular social media platform, with over 2 billion users. It is the most popular tool for marketers because it has a broad reach and enormous user data. Facebook effectively boosts brand awareness and increases customer engagement.
Twitter
With 300 million users worldwide and growing constantly, Twitter is a powerful tool for marketers who want their message to be seen by a broad audience. The platform is more than just a place for people to share links about their lives. It is also an effective way for companies to engage with customers, build credibility, and promote products or services directly through tweets.
LinkedIn
LinkedIn is similar in many ways to Facebook, but it's more focused on professional connections between employers and employees than casual interactions between friends. The social network makes it easy for people to find each other based on common interests to connect over shared interests.
How Much Does Social Media Marketing Cost for Interior Designers Companies?
The average cost of social media marketing for an interior design company in the U.K. ranges from £2,000 to £5,000 per month. The figure includes the cost of hiring a social media manager, advertising, influencer marketing, and content creation.
Testimonials from our Interior Designers Companies Clients
"I have been using their services for a year and a half. I am pleased with the results they have provided me in my business. They have helped me grow my social media presence, and offer effective social media tips, and I have never been happier with my online presence on social platforms."
"The team helped me in every way possible: creating post ideas, visual content, writing the content, connecting me with influential social media users, posting it on all platforms, managing comments, etc. They know how to attract customers using social media marketing strategies and social media channels that reonate with your brand. The companies social media campaigns have proven effective across all industries."
"We have been working with them for a long time now to create image-centric content. We have had a lot of success with them, and they are always easy to get in touch with them. We love their services since they help us get more clients from a blog post, offer so much brand awareness and make more money than we ever did on search engine. The are the experts in digital marketing."
FAQs
How do I get started?
Use your professional network to find other interior designers using social media to grow their businesses. Ask them how they do it, what tools they use, and how many followers they have. Once you have identified someone with a similar audience size, reach out and ask for advice about how best to approach them with a request for collaboration.
What kind of content should I post?
It would help if you were sharing images of your work or behind-the-scenes shots from projects that show off the creativity and thoughtfulness of your designs. If you are an interior designer with a lot of natural light photography experience, share some photos that showcase how light plays into the space.
It allows you to engage with people who already know about your business or are looking for what you offer. You don't have to spend money on advertising materials or time on production costs.
Find Out More
We are the leading social media marketing agency in the U.K. We offer our services by creating marketing strategies through some of the most popular social media platforms for interior designers.
Wanting Social Media Marketing Specialists?


Talk to us today!
They include Facebook, Twitter, and LinkedIn social media marketing. By sharing engaging content on these platforms, interior design companies can reach many people and achieve their marketing goals.