Lead Generation for Interior Designers
Interior designers always seek new leads and ways to generate more business. The designers can generate leads and bring in new business by working with a lead generation agency. Our company is a top-performing lead generation agency in the U.K. We work with interior designers to help them get more customers to keep the business growing.
Looking For Lead Generation Services


Get in touch today!
4.7 stars out of 128 reviews
Why should an Interior Designer work with a Lead Generation Company?
Working with a lead generation company to your interior design business can be an excellent way for interior designers to get the most out of their marketing efforts. A Lead generation company can help interior designers create targeted lists of existing clients, craft compelling marketing campaigns, track and measure their results. This is how you gain qualified interior design leads.
Lead Generation companies can also provide other services such as email marketing and Interior Designer social media marketing. If your business is not getting enough sales leads, you may need to hire a lead generation company.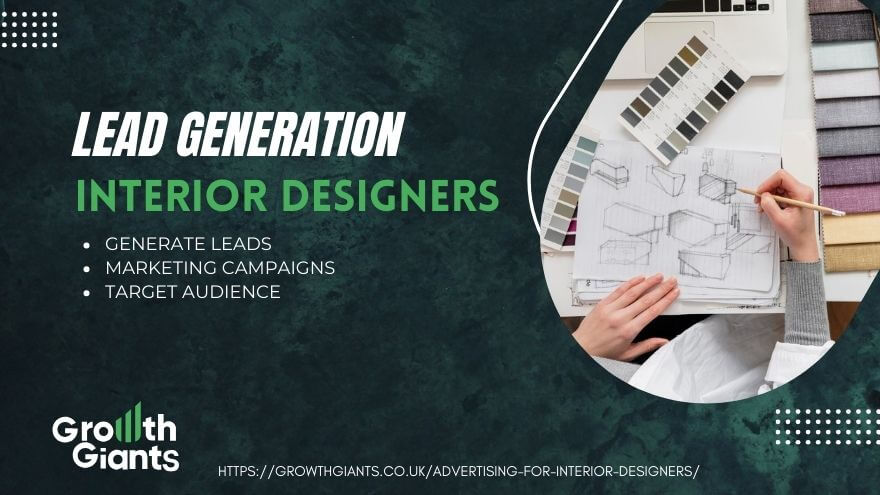 Why Choose Us?
Our agency specialises in generating leads for our interior design clients. Our team can get your business in front of the right people by utilising various methods, including online marketing, cold calling, and networking.
With years of industry experience in the interior designing niche, our company knows how to identify and target your ideal customer. We then craft a custom lead generation plan tailored to your business goals. We can get you the best results using the latest techniques and strategies.
How our Interior Designers Lead Generation Works
First, we identify potential customers who might be interested in your interior design service. Then, we reach out to them through various channels, such as online advertising, cold calling, or email marketing. Once we have made initial contact, we build a relationship with the potential customer. Finally, we provide valuable content, such as design tips or sneak peeks of our latest projects.
Benefits of Lead Generation for Interior Designers
Reaching a wider audience
You can reach a wider audience of potential clients than you would through traditional marketing channels. That means you can grow your business by tapping into new markets.
Saving time and money
Lead generation can save you time and money by helping you to target your marketing efforts more effectively. You can focus your energies on generating leads from your ideal target market rather than trying to cast a wide net and hoping you'll reach someone who needs your services.
Building relationships with potential clients
You can build relationships with potential clients before they even become paying customers through lead generation. It helps to create a foundation of trust, making them more likely to use your services when ready to take the plunge.
How much do Interior Designers Leads Cost?
Interior designer leads can range anywhere from £50 to £500. Some things that can affect the lead cost include the lead type, the number of social media accounts your business has, the lead's geographical location, project size, and your current budget.
For Lead Generation Specialists


Click here
Types of Interior Designers Leads
Hot Leads
A hot lead is a potential customer interested in your product or service. They may have visited your website, subscribed to your newsletter, or called your sales team. Our company will help by staying in touch with the leads, providing relevant information, and offering incentives.
If you need help advertising your Interior Designer company, be sure to have a read of our advertising for Interior Designers page for more information on what we can do to help.
Cold Leads
A cold lead has yet to engage with your brand or product. To generate interest from a cold lead, we will create content and strategies to pique their curiosity and encourage them to learn more about your company.
Qualified Leads
A qualified lead is a potential customer vetted by your sales team and determined to be a good fit for your product or service. To generate qualified leads, you need first to generate a list of potential leads and then screen them to see if they meet your criteria. If they meet your criteria, you can then add them to your sales pipeline and start working on converting them into customers.
Testimonials from our Interior Designer's Clients
"I have been using your lead generation services for a few months, and I am already seeing a big difference in my business. We keep getting more interior design clients each week thanks to the targeted local advertising. I have connected with several new clients who have become regulars, and I couldn't be happier. Thank you, you really generate high quality leads."
"Since signing up for your lead generation services, my business has grown exponentially, with prospective clients pouring in. I have connected with more clients than ever and couldn't be more thrilled. You are a dream come true for the interior design industry."
"Their services have truly been a game-changer for my business with several client referrals. I have connected with more high-quality leads than ever, and worked in more interior design projects in the last month. I clearly see a significant increase in my business."
How We Generate Our Interior Designer's Leads
There are several ways that we generate leads for our interior designers. First and foremost, we list our business in relevant online directories. It ensures that people who are searching for interior design services in their area will be able to find us easily. We also run targeted ads on social media and search engines. It helps to increase our visibility and reach a wider audience.
If you are interested solely in SEO for your Interior Designer company, be sure to visit the link and take a look at the services we have in more detail.
FAQs
Q. How can I convert more leads into paying clients?
You can do a few key things to convert more leads into paying clients. First, ensure you provide value throughout the entire process, from your initial contact with the lead to the final sale. Second, build relationships and establish trust with your leads. Finally, be clear and concise when communicating your pricing and services.
Q. What are some excellent ways to generate leads?
There are several good ways to generate leads. One is to create a solid online presence. Ensure your website is optimised for search engines and has a strong social media presence. You can also generate leads by reaching your target market through targeted advertising or mail.
Q. What common mistakes do interior designers make when trying to generate leads?
One significant mistake is not having a clear plan or strategy for generating leads. Another is not nurturing leads that have been generated. Finally, another common mistake is not tracking leads effectively, so you can't measure your success or ROI.
Find Out More
Our interior design lead generation process is designed to create long-term relationships with our customers. We focus on providing value throughout the entire process, from the first point of contact to the final sale.
Wanting Lead Generation Specialists?


Talk to us today!
Contact our agency today if you want a reliable and effective lead-generation solution. We would be glad to discuss your specific needs and create a plan that is just right for you.