PPC for Interior Designers
If you are an interior designer, you know first impressions are everything. That's why you must ensure your website is designed to perfection. But what good is a beautiful website if no one can find it? Pay-per-click advertising, also called PPC ads can be an excellent way for interior designers to get their business in front of potential customers. Our company is a trustworthy PPC agency in the U.K., and we offer the best PPC services to interior designers.
Looking For PPC Services


Get in touch today!
4.9 stars out of 101 reviews
What is PPC for Interior Designers?
PPC is a type of online advertising that allows businesses to display ads on search engines and other websites. When a company uses PPC, they pay to display their ad on a website or search engine. When someone clicks on the ad, the business pays a small fee. PPC can be beneficial for companies because it allows them to target a specific audience and track the results of their ad campaigns.
Why Do Interior Designers Firms Need PPC?
PPC can be an excellent way for interior designers to market their business and attract new clients. By targeting potential customers searching for interior design services online, designers can reach a wider audience and generate leads. Additionally, it can be a cost-effective way to advertise, as businesses only pay when someone clicks on their ad.
The Benefits of PPC for Interior Designers
PPC can be an effective marketing tool for interior designers for several reasons. First, it allows you to target a specific audience with your ads.
Second, PPC is a relatively low-cost form of advertising since you only pay when someone clicks on your ad so that you can control your budget.
Third, PPC can be a great way to generate leads. When someone clicks on your ad, they are taken to your website or landing page. From there, you can capture their contact information and follow up with them.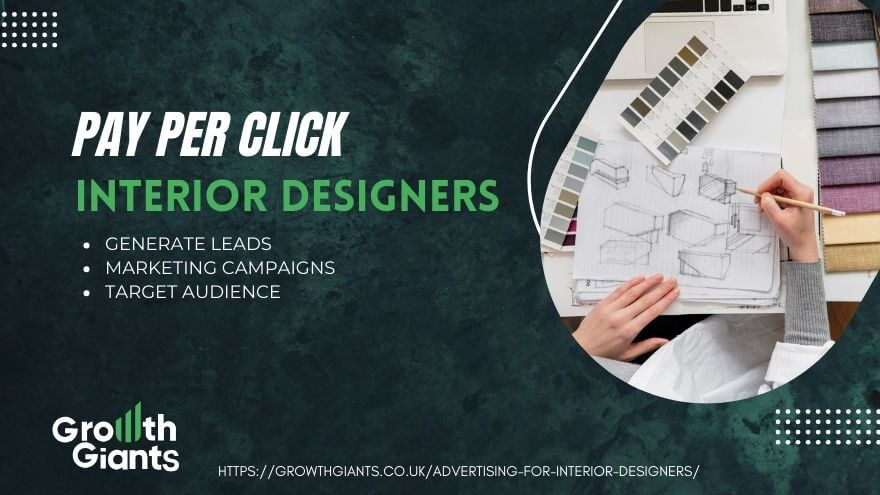 Why Choose Us?
Our company is the leading PPC service provider in the U.K. We offer unique and reliable PPC and digital marketing services to interior designers interested in getting more clients online. The company has skilled and experienced personnel who will guide you from the beginning to ensure that your PPC campaign is tailored in a way that will meet your expectations. You can reach more people, generate more leads, and grow your business.
How our Interior Designers' PPC Services Work
Our PPC for Interior Designers works by connecting you with interior designers who are looking for new clients. Our professional team will help you create targeted google ads campaigns to reach your ideal customers. We will also help you track your results to see your campaigns' performance. Lastly, we send your contact information and portfolio to potential customers, who will contact you to discuss your project.
For PPC Specialists


Click here
Types of PPC for Interior Designers Companies We Offer
Search Engine Optimization
It optimises your website to rank higher in search engine results pages (SERPs). SEO will help you get more visibility for your business and attract organic traffic to your website.
Paid Social Media Marketing
It involves creating and sharing content on social media platforms to promote your business. Paid social media marketing is a great way to build brand awareness and engage with your target audience.
Paid Email Marketing
It includes sending promotional emails to a list of subscribers. Paid email marketing is a great way to stay in touch with your customers and promote your products or services.
How Much Does PPC Cost for Interior Designers Companies?
A simple text ad costs around £50 per day, while video ads cost around £200. The price depends on the type of ad you choose and whether or not you want several different kinds at once. We have several digital marketing strategies that guarantee your business's success.
Testimonials from our Interior Designer's Clients
"I have been using their PPC and digital marketing strategy services for my interior design business for years and have always been happy with the results. Their highly professional team always goes the extra mile to ensure my campaigns succeed."
"They are an amazing team when it comes to SEO strategies. They helped me create an interior design PPC campaign that targets my ideal clients and brings in a steady stream of new leads. I couldn't be happier with the results."
"PPC Services has helped me reach a whole new level of success. I never thought I could afford to advertise on Google, but their services are very affordable. And the results have been incredible. I have seen a huge increase in web traffic and inquiries."
FAQs
How is PPC different from SEO?
SEO stands for Search Engine Optimization, which is ensuring your website appears in search results for the words people type into Google's search bar. On the other hand, PPC aims to drive people straight to your site by offering them an incentive if they click on an ad or visit your site.
How do I price my PPC for Interior Designers' ads?
When setting up a PPC for an Interior designer' ad, you must first decide on your target audience and their relevant keywords. Then, you must figure out how long each keyword will take to rank in the top 3 positions on Google, Bing, or Yahoo.
Once you have those numbers, use them to calculate the cost per click for each keyword where your ad is showing, then divide that number by the number of clicks you expect per day and multiply it by 30 days. That final number is how much money you can expect to make from this campaign over its lifetime—and how much it will cost if you want to keep it running longer than 30 days.
How do I use PPC?
You can do PPC on Google and Bing. You will need to be signed up with each of these platforms before you can start using them as part of your marketing strategy, so check out their respective websites for more information about how easy it will be for you to set up.
Find Out More
We are the most reliable PPC agency in the U.K., offering bespoke services to interior designers.
Wanting PPC Specialists?


Talk to us today!
You can reach people actively searching for interior design services through our targeted specific keywords and phrases. Contact us for quality and affordable PPC services today.